More workouts
same energy
Start your Trial Week for CHF 24.99 only. Enjoy full access to all workouts and spa.
Workouts tailored to your needs
Experience the broadness of the BODYART concept and reach your training goals faster.
Keep training while you're at home
Unlimited workouts, cancel anytime: stream 200+ workouts on demand into your living room.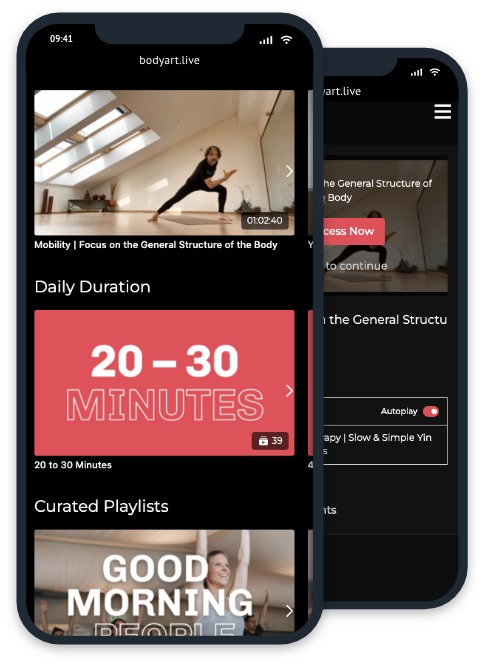 GUEST TRAINER
EVENTS & SPECIALS
Be the first to know about our upcoming events, guest trainers and specials.
BODYART is an intense and versatile training, I would describe it as an incredible mix of cross-fit and yoga. The coach brings a lot of energy and you train in a feel-good ambiance.
BODYART is a blessing for me. After each workout I feel strengthened, refreshed and at the same time full of energy to master my day. I have developed a whole new body awareness and got to know myself better.
I chose BODYART to balance and strengthen my life. Coming from a team sport background, I understood the essence of BODYART: To energize my body and soul.
It is the perfect balance for my mentally exhausting job and the best method I know for a psychohygiene. BODYART helps me to shape my body, build muscles and learn new breathing techniques.
I used to go to the gym but didn't feel challenged anymore and wanted to try something new. Now, after 3 years of BODYART, it has become a valued routine in my life.
It is the moment when I put everything that concerns me, of mind, body and soul, into one scale and use my workout to bring everything back into balance and harmony. Day by day. Mostly in the evening. I love BODYART.
BODYART is for me one of the most advanced movement concepts of our time. The focus is on the perception of one's own body, as well as the focus on the five elements and the relationship between Yin and Yang.
I miss you very much, it always builds me up again, you are the sun ☀️ I had to say this out loud here 😘
Fitness in Zurich on the highest level
Finding the best Fitness studio in Zurich is a real challenge. Especially the combination of fitness and wellness should leave nothing to be desired in a premium studio. The different group fitness courses from BODYART are offering you exactly the right fitness mix. Choose your favorites from courses like HIIT (High Intensity Interval Training), Yoga, Pilates, BODYART and DEEPWORK with Robert Steinbacher Experience a holistic support by our professional trainers. For a better effect you can go to the spa area after the group fitness and treat your body and muscles with real wellness.
INDIGO Fitness Club meets BODYART Studio
Thanks to our close collaboration with INDIGO Fitness Club erlebst du bei uns Workouts und Entspannung auf höchstem Niveau. Der INDIGO Fitness Club Zürich liegt mitten im Zentrum (Kreis 1) und wird umgeben vom Paradeplatz und der Bahnhofstrasse. So kannst du dich nach deinem BODYART Workout in der Panoramasauna entspannen oder die wohltuende Dampfsauna nutzen. Runde die Premium Fitness Erfahrung mit den Pflegeprodukten von Molton Brown für deine Haut ab. Zusammen sorgen der INDIGO Fitness Club und das BODYART Studio für bestes Fitness in Zürich. Wir freuen uns, dich bei deinem nächsten Besuch in der Münstergasse 4 zu empfangen.
Yoga studio in Zurich with a Spa
In our yoga studio Zurich you can choose your favorite course from many different yoga classes and yoga styles we offer. Our professional classes offer you the opportunity to open up the body in its joint structures through slow practice of the positions and conscious breathing and to gain more space for your well-being. Exercises routing from traditional Qi Gong are also included in the classes style. By the way: our yoga classes are suitable for yoga beginners who are looking for a studio in Zurich (District 1) as well as for advanced yoga trainees who want to practice e.g. Vinyasa Yoga in the middle of the city of Zurich. If you have questions just talk to our yoga trainers like Zoë Pastelle Holthuizen or Alexa Lê. here.
High quality courses in pilates studio in Zurich district 1
After visiting our high quality Pilates studio in the middle of Zurich district 1 you will walk through the day with more confidence: Improve not only your breathing technique but also the quality of your movements. Experience classic pilates classes in combination with the typical elements of BODYART. Practice pilates in the heart of Zurich and sharpen the stability and precision of your movements. Our professional trainers will guide you gently and in a controlled manner through the classical pilates exercises. Our courses are suitable for pilates beginners as well as advanced pilates students who want to start their pilates training in Zurich without equipment.
Choose your Fitness goal
Depending on your fitness goal we'll choose workouts that are perfect for you.
Choose your Fitness level
Depending on your fitness level we'll choose workouts that are perfect for you.
The ideal workouts are
analyzed for you
Show all workouts >